Active School Flag

-What is the Active Schools Flag?
Active School Flag is a Department of Education and Skills initiative which recognises schools that strive to achieve a physically educated and physically active school community, by awarding them with an Active School Flag (ASF).
Please feel free to look at the following website to learn more about the Active School Flag initiative:
-Our Active School flag:
The staff and pupils of St. Aidan's National School are working together to receive the Active School Flag. The Active School Flag is rewarded to schools that strive a physically active and physically educated community.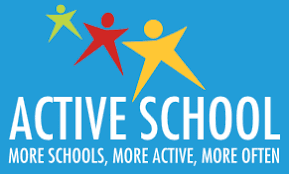 As an Active School we:

• Provide all pupils with appropriate PE provision and ensure the school PE plan is both comprehensive and up to date.
• Promote physical activity during break times as well as introducing new sports into the school PE timetable.
• Provide students with various physical activities during the school day such as Tennis Lessons, basketball lessons , Skipping lessons, Swimming lessons, GAA , Rugby and Bike Safe Workshops.
• We love to see pupils walking to school and encourage as much physical activity at home and in the community with family and friends.
Our Active School Committee
Meet our Active Flag Committee. They are made up of students from Junior Infants to sixth class. They meet up on a regular basis to review how Active the school is share ideas they have how to make the school more physically active. They have regulars talks with all the children in the school to share ideas.


They created a suggestion box where all of the children can share ideas. This can be found at the main door of the school.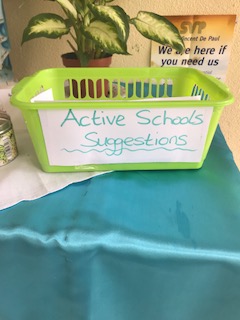 Partnerships

Tag Rugby

We had a coach from Sligo Sports Partnership come in to teach us Tag Rugby before Christmas. This was completely new for majority of the children and they all really enjoyed learning this new sport.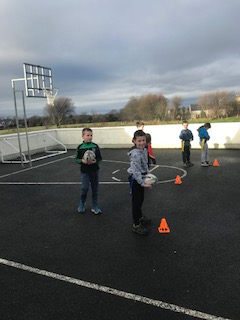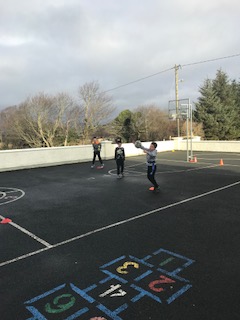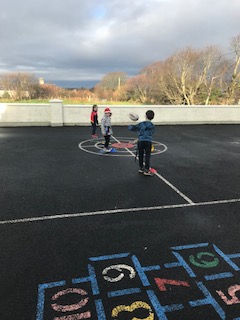 Gaelic Football

We Love Gaelic Football!
Every year we get a coach from IT Sligo to come into the school and coach Gaelic Football. We can't wait to start again this year in March.


Swimming

Every year the children take part in swimming lessons in a local swimming pool. They have a great time each time they go. They have learnt loads of new strokes, diving and safety when getting in and out of the pool. Each child's confidence has grown each week in the pool. We love swimming in St. Aidan's NS.

Dancing

WOW! What a great time all the children had dancing with Debbie from the Sligo Sports Partnership. Thank you for coming in to teach us. The children had a great 6 week workshop and even though some were very nervous about dancing by the end everyone wanted to keep these classes going. They were so much fun!

Basketball

We just purchased a new set of basketballs for us to use in your year. We have a coach coming in to teach us the rules and skills needed to play basketball and we are so excited.
Other School Initiatives

Active Breaks/Movement Breaks

Unfortunately we have been faced with a few wet breaks. So even when the weather doesn't allow us to go outside, we can still reach our 60 minutes of exercise a day by taking part in active breaks. During break time we do dancing, cosmic yoga and go noodle.

Active Lines/Daily Laps

Every day after lunch the whole school run laps around the school. We try to do more laps each week as the children are getting much fitter. We even put on music so some children dance around the school which is great fun!
The children also done active lines. A committee member took charge of the lines and showed the children what activity to do.

Movements Breaks

Between subjects we do a lot of movement break to get our bodies moving. We do circuits, go noodle, dancing and yoga movements. This helps us settle back and concentrate into more work.


Gymnastics and Obstacle courses

Every PE consists of gymnastics skills and an obstacle course that helps us with our fundamental movement. We really enjoy this!

10 @ 10 Operation Transformation

Every year we take part in the 10 @ 10 Operation Transformation workouts.

Sports day

Every year in June, we hold our annual Sports Day. It is a great day for all children and staff in the school. We even get a surprise visit from an ice-cream truck.

PE Equipment Audit

The children in the Junior worked toegther and completed the PE Equipment Audit. They did a great job counting all of the sports equipment we have in the school.
School Equipment Audit
Ms. McGills Equipment Audit
Hula Hoops-New: 11
Hula Hoops- Old: 24
Hard Footballs- Soccer: 7
Hard Footballs - Gaelic: 4
Soft Footballs: 21
Small Basketballs: 6
Large Basketballs: 16
Rugby Ball: 1
Tiny Balls: 7
Small Ring: 1
Tennis Racket: 1
Badminton Racket: 1
Shuts: 8
Cricket Stick: 1
Cones-Round: 18
Cones- Small: 16
Cones-Tall: 12
Tennis Rackets: 1
Javelins: 6
Parachute: 1
Bean bags: 30
Skipping Ropes- Plastic: 19
Skipping Ropes- Cloth: 4
Red Bibs: 23
Yellow Bib: 19
Green Bib: 1


Hula Hoops: 9

Ladders: 2
Ball Pit Ball: 97
Bean bags- Doggie: 19
Bean bags- soft: 22
Cones- Orange Tall: 12
Cones- Circle Cones: 57
Hurdles (Cone): 6 and (3 poles)
Hurdles: 6
Tunnel: 1
Stepping Stones: 1
Balance Beam:1
Wedge- Green: 1
Wedge- Red: 1
Blue Mat: 1
Connecting Mats: 24
Neon Parachute: 1
Tennis Rackets: 6
Gladiator Games: 3
Markers- Hands: 12
Markers- Feet: 12
Markers- Spots: 23
Egg and Spoon Set 6: 1
Tug a War Rope: 1
Human Hippo Sets: 3
Ribbons: 51
Sacks-Sports Day: 5
Jigsaw Mats: 24
Tennis Balls: 23

Active Schools Week

We had our Active Schools Week from Tuesday the 7th of May to Monday the 13th of May 2019. Everyone had great fun!
Monday- Move it Monday
We worked out to 10 ag 10 as Gaeilge.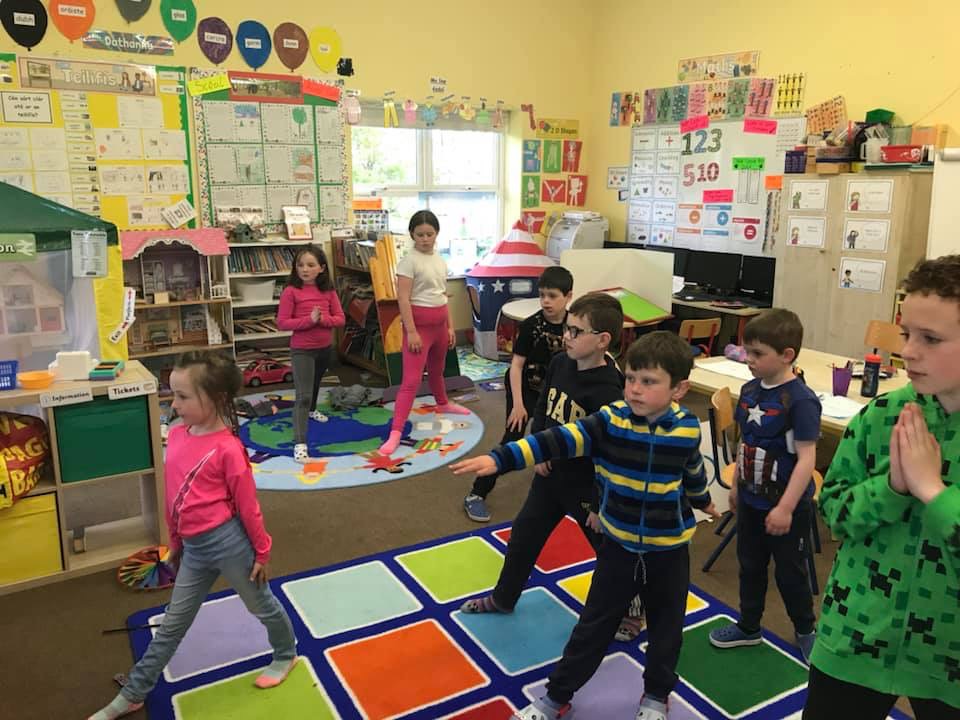 Tuesday - Try it Tuesday
We learned how to try play Tennis. This is something very new to majority of the children.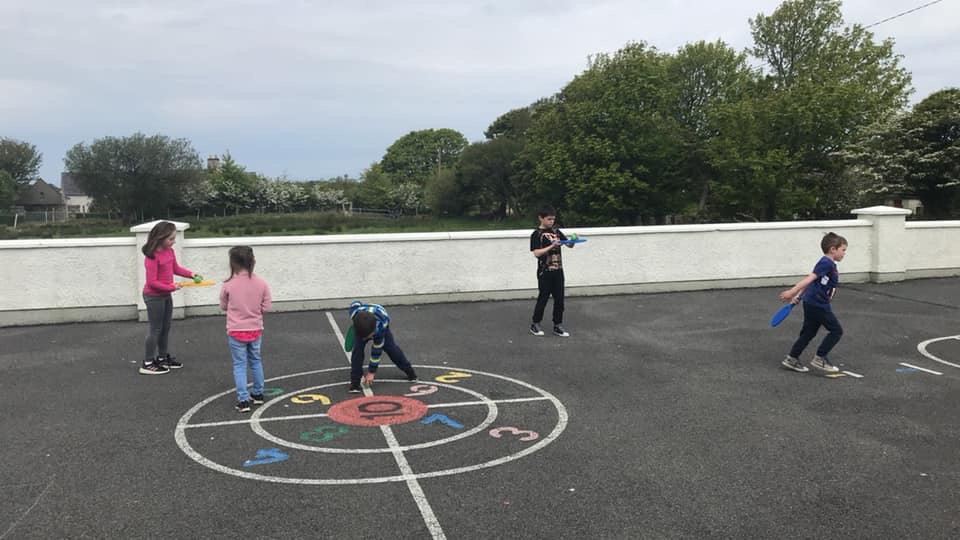 Wednesday - Work it Wedenday/ WOW (Walk it Wednesday)
We learned all about Robert Heffernan and the children learned the tecnique for Race Walking.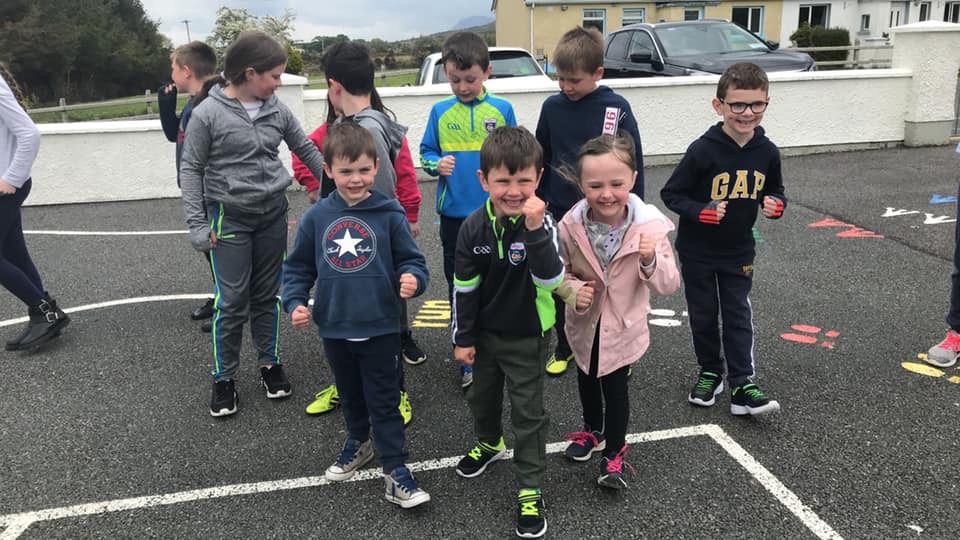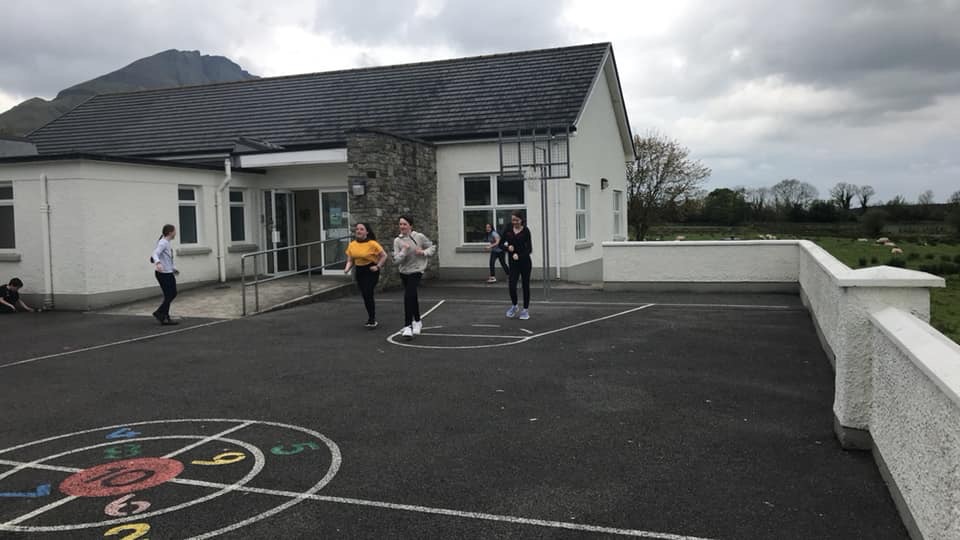 Thursday- Team Work Thursday
We all worked together as a school and completed fun team work activites. Our listening skills were definitly tested.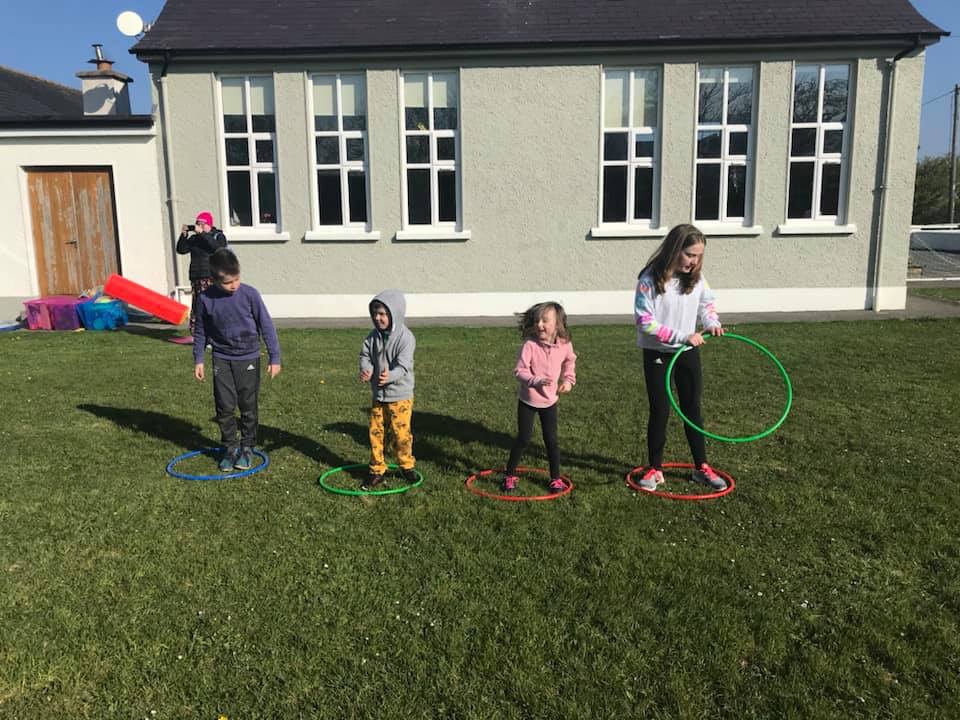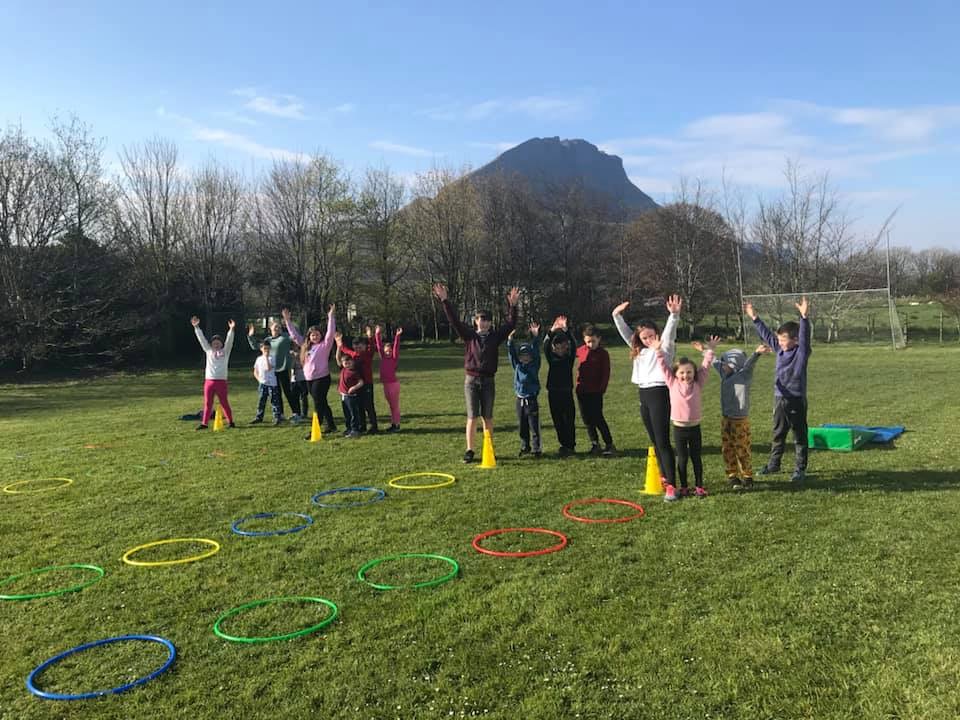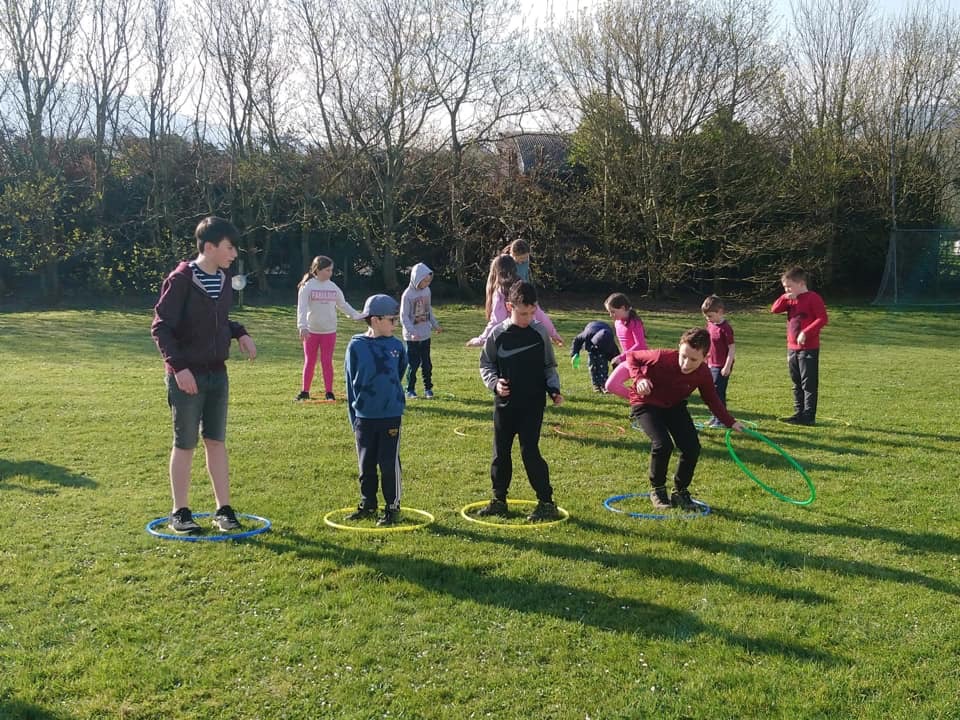 Friday - Feel good Friday
Friday was all about feeling good. We put music on in the yard and played our favourite games. Some children played football while some children took out the gymnastics mats. The sun was shining which added to everyones happiness.